Gaia Hotel & Reserve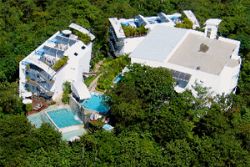 Gaia Hotel & Reserve
The Gaia Hotel achieves an ideal blend of modern amenities and natural scenery. Nestled in the magnificent coastal forests of Costa Rica, the hotel's well-appointed, terraced suites and villas offer views of lush and pristine wild surroundings that are beyond compare. The hotel sits on a vast tract of lowland coastal forest, teeming with spectacular and rare wildlife.
Gaia Hotel & Reserve Dining:
...
Adventure and Active
Spa and Fitness Trips

Founded in 1959, Pleasant Holidays is one of the largest travel companies in the U.S., offering customizable vacation packages including flights, hotel and cruise accommodations, airport transfers and car rentals, exciting sightseeing tours and activities, travel protection coverage and more. Our vast portfolio spans the globe while featuring the world's most popular vacation destinations, including Hawaii, Australia, Canada, Caribbean, Central America, Cook Islands, Europe, Fiji, Japan & Asia,
...
Land Only - Sunday; Studio